This week's XKCD is, to put it mildly, a skeptical win: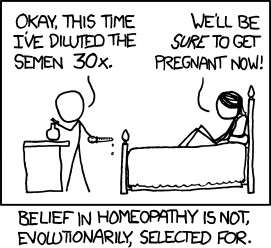 "Dear editors of Homeopathy Monthly: I have two small corrections for your July issue. One, it's spelled "echinacea", and two, homeopathic medicines are no better than placebos and your entire magazine is a sham."
Being denizens of the internet, I assume you're all familiar with Randal Munroe's webcomic, XKCD, and have therefore probably already seen this. Still, it's nice to have celebrities speak up on behalf of skeptical causes, like illustrating the absurdity of homeopathy.
While we're on the topic of homeopathy, you should try our Guess the Cure game, created by our very own Kim Hébert. (Here's the answer.)