Are streaks fact or fiction?
Erin spotted this skeptical baseball story about "streaks". It's an interesting read about the statistics and emotions behind winning streaks.
No child cancer, cell tower link: study
Marion spotted this story about the (lack of a) link between cell phone towers and childhood cancer. The story goes on to talk about the fact that there is no science showing a risk, and most of the fear has come from personal beliefs. Definitely a win.
Inferior Blood
Erik spotted this story criticizing the policy of disallowing gay men to give blood. It's an interesting read.
Skeptical win on the Michael Coren Show
Check out skeptics Behzad Elahi and our own Michael Kruse taking down alternative medicine. Great work guys!
Breathing easier, thanks to salt
It wouldn't be a Skeptic Fails and Wins column without a little bit of woovertising. Check out this story about the healing power of sitting around in a salt cave. Yep, you read that right.
I'll leave you with this win that Erik spotted on the excellent web comic xkcd: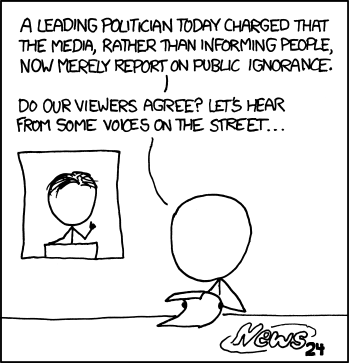 Did you spot a skeptical fail or win?  Send it to me at links@skepticnorth.com